Another tough year for the Go-Gos: We lost two more 1959 pennant winners, team photo signers Barry Latman (middle) and Johnny Romano (lower right).
---
It's the time of year where, as we look ahead with hopeful eyes to our 2020 Chicago White Sox, we take a heartfelt pause to look back at those South Siders we lost in 2019. Included among them are two "oldest living ballplayers," two more Go-Go Sox (it's been a rough couple of years for the pennant winners), possibly the oldest man in the United States, and a dear member of our South Side Hit Pen staff.
Please, feel free to use the comments to honor any White Sox close to you who we lost in 2019.
---
Rocky Krsnich
Third Baseman
White Sox career: 1949-53
-0.2 bWAR
59 hits ⚾️ 3 HR ⚾️ 38 RBI ⚾️ .215/.294/.335 ⚾️ 70 OPS+
Died: Feb. 14, 2019
Age: 91
Rocky Krsnich spent his entire major league career with the White Sox. Not that the career lasted very long.
Krsnich was picked up by the Sox from the Yankees organization in the 1948 minor league draft and made brief stops with the parent club in 1949, 1952 and 1953. The right-handed hitter appeared in a total of 120 games, making 308 plate appearances, clubbing one homer each season and hitting .215. That was good for a career -0.2 bWAR, though, unlike many present Sox, he did have a positive dWAR. Krsnich was traded to the Reds in 1953, but never made it to the bigs with them.
Krsnich was part of a baseball family. His younger brother, Mike, also made a brief stop in the big leagues, playing in 15 games for the Braves in 1960 and 1962 before heading to play in Japan, where he had five successful years.
---
Johnny Romano
Catcher
White Sox career: 1958-59, 1965-66
20.9 bWAR
706 hits ⚾️ 129 HR ⚾️ 417 RBI ⚾️ .255/.354/.443 ⚾️ 122 OPS+
Died: Feb. 24, 2019
Age: 84
Johnny Romano was a catcher for the White Sox at both the beginning and end of his 10-year major league career, though his best years were in the middle, with Cleveland. Romano was signed by the Sox in 1954 as a 19-year-old, had a September call-up in 1958, and was Sherman Lollar's backup on the pennant-winning 1959 Sox, hitting .294 in 53 games, but getting only one at-bat in the World Series.
Romano went to the Indians that December as part of a multi-player swap that, among other things, brought Minnie Miñoso back to Chicago. Romano was an All-Star in 1961, when he hit .299 with 21 HRs, and again in 1962. Romano then came back to the Sox in 1965 in an eight-player, three-team transaction involving Kansas City that also netted Chicago Tommy John and Tommie Agee. Romano put in two solid, if unspectacular, seasons before moving off to end his career with one season as a backup in St. Louis.
The New Jersey native was considered one of the top catchers of the 1960s, solid defensively, with a career 20.9 bWAR, 129 HRs and a .255 average. He's credited with being a strong influence on the early careers of both John and Sam McDowell. To bring the White Sox connection forward a few decades, Baseball-Reference lists his second-closest batter career similarity as Yasmani Grandal.
Oh, and his nickname was "Honey."
---
Mike Colbern
Catcher
White Sox career: 1978-79
0.1 bWAR
58 hits ⚾️ 2 HR ⚾️ 28 RBI ⚾️ .259/.279/.348 ⚾️ 73 OPS+
Died: March 8, 2019
Age: 63
Mike Colbern spent his entire, very brief major league career with the White Sox, but it was after his playing days that he became a noteworthy part of baseball history.
The right-handed hitter was a second round draft pick by the Sox out of Arizona State in 1976 and made the parent club in 1978, playing in 48 games, hitting .270 as the backup for Bill Nahorodny. Despite that start, his career came to an abrupt halt after 32 more games in 1979, accumulating 0.1 bWAR. He did stay around long enough to play on Disco Demolition Night, with pregame a Getty photo of him kissing WLUP DJ Lorelei and his jersey from that (in)famous White Sox promotion hanging in the Elmhurst History Museum. Colbern was traded to the Braves in 1981, but never made it back to the bigs.
Colbern gained fame when he was named one of three lead plaintiffs among the more than 1,000 former players who filed a lawsuit against major league baseball in 2003, seeking pension rights and compensation for medical abuse. The players sought pensions equal to those granted former Negro League players, which Colbern explained was not to deny any rights to Negro Leaguers, but to gain rights for former major leaguers. He was among many of the plaintiffs who complained of being injected with cortisone without their consent (and Butazolidin, in his case). MLB won the pension suit in 2006, but did make some small compensation payments after a decision by commissioner Bud Selig in 2011— $1,850, in Colbern's case.
Colbern suffered a difficult post-baseball life, being homeless at one point and suffering from bipolar disorder, a stroke, and 14 surgeries. He said the $1,850 might cover the cost of his pills.
---
Scott Sanderson
Right-Handed Starting Pitcher
White Sox career: 1994
27.7 bWAR
163-143 ⚾️ 3.84 ERA ⚾️ 3.83 FIP ⚾️ 1.255 WHIP ⚾️ 102 ERA+
Died: April 11, 2019
Age: 62
Scott Sanderson died of cancer in April, and though he only spent an age-37 wind-down season with the White Sox, he had many Chicago ties. The big (6´5´´) righthander was a Glenbrook South alum and made his post-career homes in Lake Forest and Northbrook.
Sanderson was a literal journeyman – he pitched for the Expos, Cubs, A's, Yankees, Angels, Giants, White Sox, then Angels again over a 19-year major league career, But he wasn't a figurative journeyman, ending up with 163 wins, 1,611 strikeouts, fewer than one walk every four innings, and 27.7 bWAR. Were it not for numerous injuries, Sanderson might well have hit the 200-victory mark.
Sanderson's visit with the Sox was in the strike-shortened 1994 season, when he went 8-4 despite a 5.09 ERA. His best years were in 1990 (17-11 with the A's) and 1991 (when he made the All-Star team, going 16-10 with the Yankees).
Sanderson was a crowd favorite. A regular at fan events, he stayed connected to the game as an agent after retirement. The fan appeal may have gone beyond his pitching skills, as one obituary called him "the most handsome baseball player who ever lived."
---
Gene Stephens
Outfielder
White Sox career: 1963-64
4.5 bWAR
460 hits ⚾️ 37 HR ⚾️ 207 RBI ⚾️ .240/.325/.355 ⚾️ 83 OPS+
Died: April 27, 2019
Age: 86
Gene Stephens was a 12-year MLB outfielder who had the gentle curse of being a left fielder on Ted Williams Boston Red Sox clubs, rendering him a bit player of the meat of his career. However, in 1953 Stephens became the only hitter in the 20th Century to collect three hits in one inning — and he did it off of three different Detroit Tigers pitchers!
After eight seasons in Boston, Stephens had brief stops in Baltimore and Kansas City. After suffering a debilitating knee injury with the A's, K.C. released him and he caught on with the White Sox, where he served as a role player for Chicago's terrific 1964 and 1965 clubs. In his final full season in 1964, Stephens hit .234 for the White Sox in 82 games, with three homers and 17 RBIs. He played in Japan in 1966 and was in the minors in the U.S. until 1967.
In a White Sox memorial coincidence, Stephens' second-closest hitting comp on Baseball-Reference is Marty Keough, brother of ex-White Sox Joe Keough, who you will read about in a little bit.
---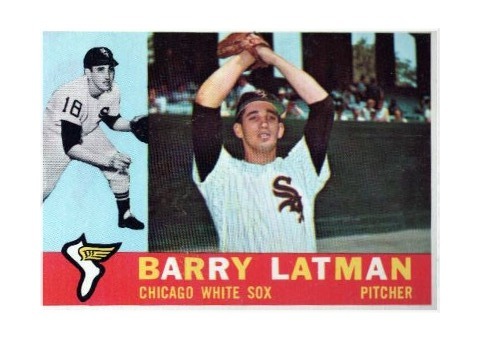 Barry Latman
Right-Handed Pitcher
White Sox career: 1957-59
3.8 bWAR
59-68 ⚾️ 3.91 ERA ⚾️ 4.03 FIP ⚾️ 1.328 WHIP ⚾️ 94 ERA+
Died: April 28, 2019
Age: 82
Barry Latman was a White Sox find, signed out of Southern Cal in 1955. He quickly worked his way up to the parent club, making his major league debut in 1957.
The big righthander tossed for the Sox for three years, the first two mainly in relief, then a switch to a primarily starting role in the pennant-winning year of 1959. Latman was the tail end of a terrific staff that was led by Early Wynn (22-10) and Bob Shaw (18-6), and he held his own by going 8-5 with a 3.75 ERA. He didn't make the World Series roster, so losing to the Dodgers in six games wasn't his fault.
At the beginning of the 1960 season, Latman was traded to Cleveland for Herb Score. The Indians got the better of the deal, since Score never did recover from the devastating injury suffered by a line drive to the face in 1957 and Latman pitched well for the Indians at first, particularly in an All-Star year in 1961, when he went 13-5 (though he didn't pitch in the All-Star game). After 1961, though, it was pretty much downhill, without a winning season among his six more years in the majors, playing for Cleveland, Angels and Astros.
Generically, Latman's career was pretty much the definition of a journeyman – 59-68 record, 3.91 ERA, 3.8 total bWAR. Ethnically, however, he was and remains a star – to this day among the all-time Top 10 in wins, saves and ERA among Jewish pitchers.
---
Bill Buckner
First Baseman/Left Fielder
White Sox coaching career: 1996-97
15.1 bWAR
2,715 hits ⚾️ 174 HR ⚾️ 1,208 RBI ⚾️ 183 SB ⚾️ .289/.321/.408 ⚾️ 100 OPS+
Died: May 27, 2019
Age: 69
Bill Buckner never played for the White Sox, but was the team's hitting coach for two seasons.
Everyone with any sense of baseball history is familiar with his error in Game 6 of the 1986 World Series, but that lowlight overshadows a player who would easily have surpassed 3,000 hits without the debilitating ankle injuries he suffered. Buckner also had extraordinary ability to put the ball in play, but per Royals Review had 11 seasons with more doubles than strikeouts and a 4.5% strikeout rate that was the seventh-lowest in the expansion era.
Buckner tore up the Dodgers minor league system and made his debut in the majors at 19. He won a batting title in 1980, had Top 10 MVP finishes in 1981 and 1982, and was an All-Star in 1981. His career ended after a return stint with the Red Sox in 1990.
Buckner's 1996 White Sox offense was among the AL's best, finishing sixth in runs per game and OPS and third in OPS+. But numbers were down across the board in 1997, with Chicago dropping to nearer league-average levels, and Buckner did not return in 1998.
Thankfully, Bucker had enjoyed a full run of "forgiveness" from Red Sox fans and esteem around baseball as a true grinder before succumbing to Lewy body dementia at his home in Boise.
---
Kelly Paris
Infielder
White Sox career: 1988
-1.0 bWAR
46 hits ⚾️ 3 HR ⚾️ 14 RBI ⚾️ 8 SB ⚾️ .217/.270/.288 ⚾️ 54 OPS+
Died: May 27, 2019
Age: 61
Kelly Paris did not have a notable career by any means, but had a remarkable, late-career resurgence in a utility role with the White Sox in 1988. He was the shortstop at Taft High School (Calif.) charged with replacing future Hall-of-Famer Robin Yount. Both Kelly's father and brother played in the minors, and Kelly and brother Bret were teammates on the 1976 Johnson City Cardinals, hitting homers in the same inning during one game. Despite very promising billing when drafted, Paris struggled until he had his eyes checked; he wore glasses for the rest of his career, and began his ascendance to the majors. Blocked by Ozzie Smith with the big league Cardinals, Paris suffered major ankle and arm injuries while in the minors after already having withstood two knee surgeries in high school, from football play.
Paris was traded to the Reds, and played in the Pirates and Orioles systems before losing control his Corvette, rolling down a ravine and slamming into a tree — leaving the infielder with a broken back, ribs, sternum and wrist, as well as cuts to his face that required more than four hours of plastic surgery. It was a drunk driving accident, and Paris went sober and attempted to work his long way back to the majors.
The White Sox were the team that gave him a second chance, inviting him to Sarasota in 1988 and optioning him to Triple-A Vancouver after a promising Grapefruit League; an injury to Ivan Calderon punched his ticket back to the bigs. His 14 games with the White Sox represented the only positive-WAR output of his career, and he hit all three of his career long balls in one week: one off of Angels ace Chuck Finley, and two in one game off of Mariners ace Mark Langston.
"Baseball is not my entire life anymore," Paris said at the time. "After the accident, I quit drinking. I was sober yesterday. I'm sober today and I plan to be sober tomorrow. Your priorities change immensely when you're that close to death."
After his playing days, Paris was a beloved youth baseball instructor before succumbing to cancer.
---
Don Mossi
Left-Handed Pitcher
White Sox career: 1964
23.5 bWAR
101-80 ⚾️ 3.43 ERA ⚾️ 3.40 FIP ⚾️ 1.213 WHIP ⚾️ 115 ERA+
Died: July 19, 2019
Age: 90
Don Mossi was the last living member of one of the greatest pitching staffs in history. Unfortunately, that wasn't with the White Sox, for whom he pitched only one season, 1964, at the age of 35. He had a 2.93 ERA and 1.1 WHIP as a reliever that year, with seven saves, but only tossed 40 innings.
The Sox purchased the prototypical crafty lefty from the Tigers, for whom he had been primarily a starter, including seasons of 17 wins in 1959 and 15 in 1961. Mossi, who retired with the highest fielding percentage ever for a pitcher, got 59 of his career 101 wins in five years with the Tigers, but it was the first of his five seasons as an Indian when he was part of the historic staff.
That was 1954, when the Tribe went 111-43, still the winningest percentage in AL history (only to get swept by the Giants in the World Series that featured The Catch by Willie Mays). The rotation included three Hall-of-Famers — Early Wynn, Bob Lemon and Bob Feller — and the pen had the one-two punch of righty Ray Narleski and Mossi. The very first batter he faced in the majors was Nellie Fox, who got aboard on an error. Mossi went 6-1 with a 1.94 ERA that year, and pitched four scoreless innings in the Series. He never was that super-effective again, but he had a very solid career — an All-Star as a starter in 1957 and a 3.43 lifetime ERA. In 2014, he was named one of the Top 100 Greatest Indians.
---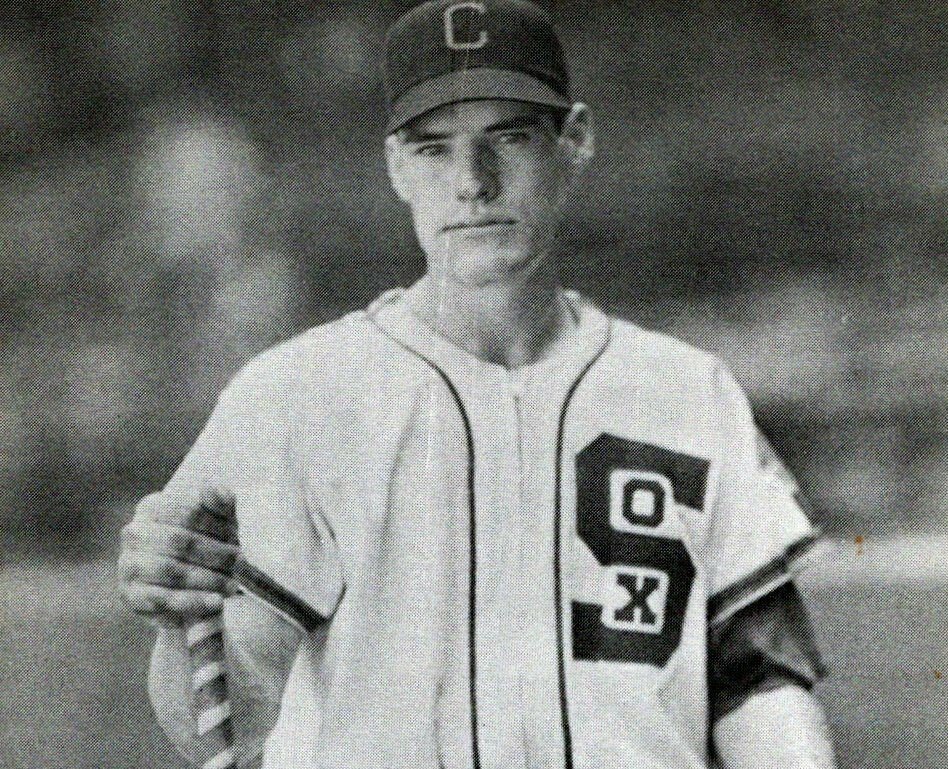 Tom Jordan
Catcher
White Sox career: 1944-46
-0.5 bWAR
23 hits ⚾️ 1 HR ⚾️ 6 RBI ⚾️ 1 SB ⚾️ .240/.270/.354 ⚾️ 78 OPS+
Died: Aug. 26, 2019
Age: 99
Tom Jordan held the title of "Oldest Living Ballplayer" when he passed away this summer, just 10 days shy of his 100th birthday.
Though he had an unremarkable major league career, Jordan spent 17 seasons in the minors, hitting .440 in 125 at-bats for D-League Roswell in 1949 and .407 in 543 at-bats for C-League Artesia six years later, at age 35. The latter was Jordan's fifth of six seasons as player-manager, and in his magic season of 1955 he also clubbed 28 homers.
---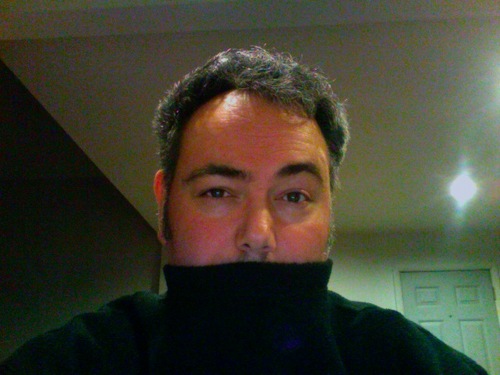 Rob Warmowski
Writer/Musician/Audio Engineer/Artist/DJ/Activist
The Defoliants ⚾️ Buzzmuscle ⚾️ SIRS ⚾️ San Andreas Fault ⚾️ @whitesoxski ⚾️ @ScabbyTheRat
⚾️ South Side Hit Pen ⚾️
Died: Aug. 31, 2019
Age: 52
Warmowski was a lifelong White Sox fan who many of us got to know through his @whitesoxski Twitter account. We were also lucky to have him join our fledgling South Side Hit Pen and South Side Sox staffs, just prior to his untimely passing.
Rob's "wake" was an October concert benefitting the Chicago Coalition for the Homeless, held at The Metro and emceed by Steve Albini. The legendary musician and producer told the Sun-Times of Warmowski, "He was an active participant in online communities and was always the smartest, wittiest voice in any conversation, whether it was about the White Sox, labor organizing or bass guitars." Friend John Haggerty of Naked Raygun added, "He was just really a Renaissance man from the South Side of Chicago."
Only now, including him in our dearly departed article at the end of the year, did I realize Rob's final tweet, of thousands, from @whitesoxski was highlighting his final article for us, a typical, consummate Warmowski work:
Rob, you'll be missed. For more on this wonderful guy, here's how we honored him at the time.
(Per Rob's wife, Maureen Sullivan, his ashes sit in a White Sox urn.)
---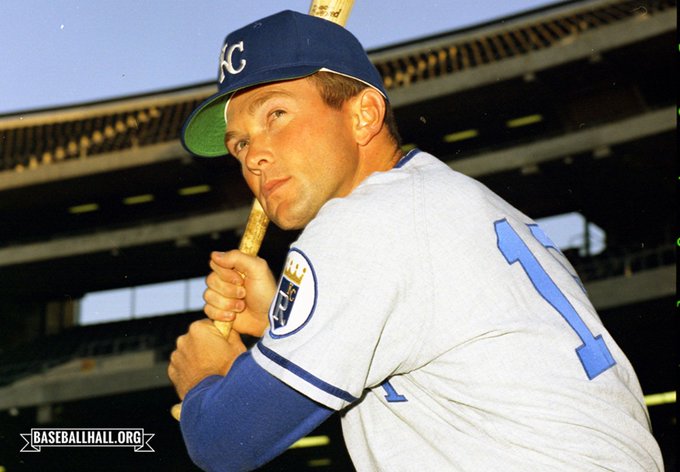 Joe Keough
Outfielder
White Sox career: 1973
0.3 bWAR
212 hits ⚾️ 9 HR ⚾️ 81 RBI ⚾️ 9 SB ⚾️ .246/.317/.319 ⚾️ 83 OPS+
Died: Sept. 9, 2019
Age: 73
Joe Keough had two brothers (Marty and Tom) in organized baseball, a noteworthy pitching nephew (Matt) as well as a son (Shane). His career wasn't particularly noteworthy, but he became just the 37th player in major league history to homer in his first at-bat as a Kansas City A's rookie, slugging one at Yankee Stadium off of Lindy McDaniel. Keough also had the first GWRBI in Royals franchise history after being Kansas City's fourth pick in the expansion draft.
While slashing .322/.396/.443 in the first 57 games in his second season with K.C., Keough suffered a badly broken leg and dislocated ankle on a slide at home plate the next year. He was never the same player.
The White Sox traded for him in 1973 and batted just once for the team, seeing action in just five games, mostly as a pinch-runner.
(He also must have been a bit of a prankster, as his photo above depicts him as a righty despite batting and throwing left.)
---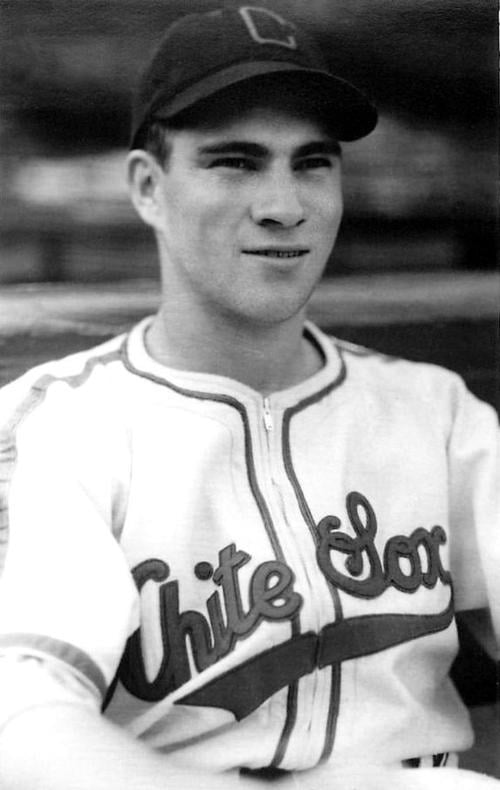 Val Heim
Left Fielder
White Sox career: 1942
-0.1 bWAR
9 hits ⚾️ 6 R ⚾️ 7 RBI ⚾️ 1 SB ⚾️ .200/.294/.267 ⚾️ 60 OPS+
Died: Nov. 21, 2019
Age: 99
Val Heim, who held the mantel of "oldest living ballplayer" for almost three months after the passing of almost-teammate Tom Jordan in August, was a native midwesterner who, like Jordan, had a brief White Sox career.
Heim's brief career was at least as much due to World War II as his playing ability, however. After his 13-game September cup of coffee in 1942, the 21-year-old enrolled in the Navy Air Corps and eventually served on Saipan Island. He caught rheumatic fever near war's end and was sidelined for a year in recovery. He played in two minor league seasons after his service before retiring, when he became a semipro player-manager for the Superior (Neb.) Senators and started a cattle farm. He was married to his wife, Betty, for more than 70 years.
---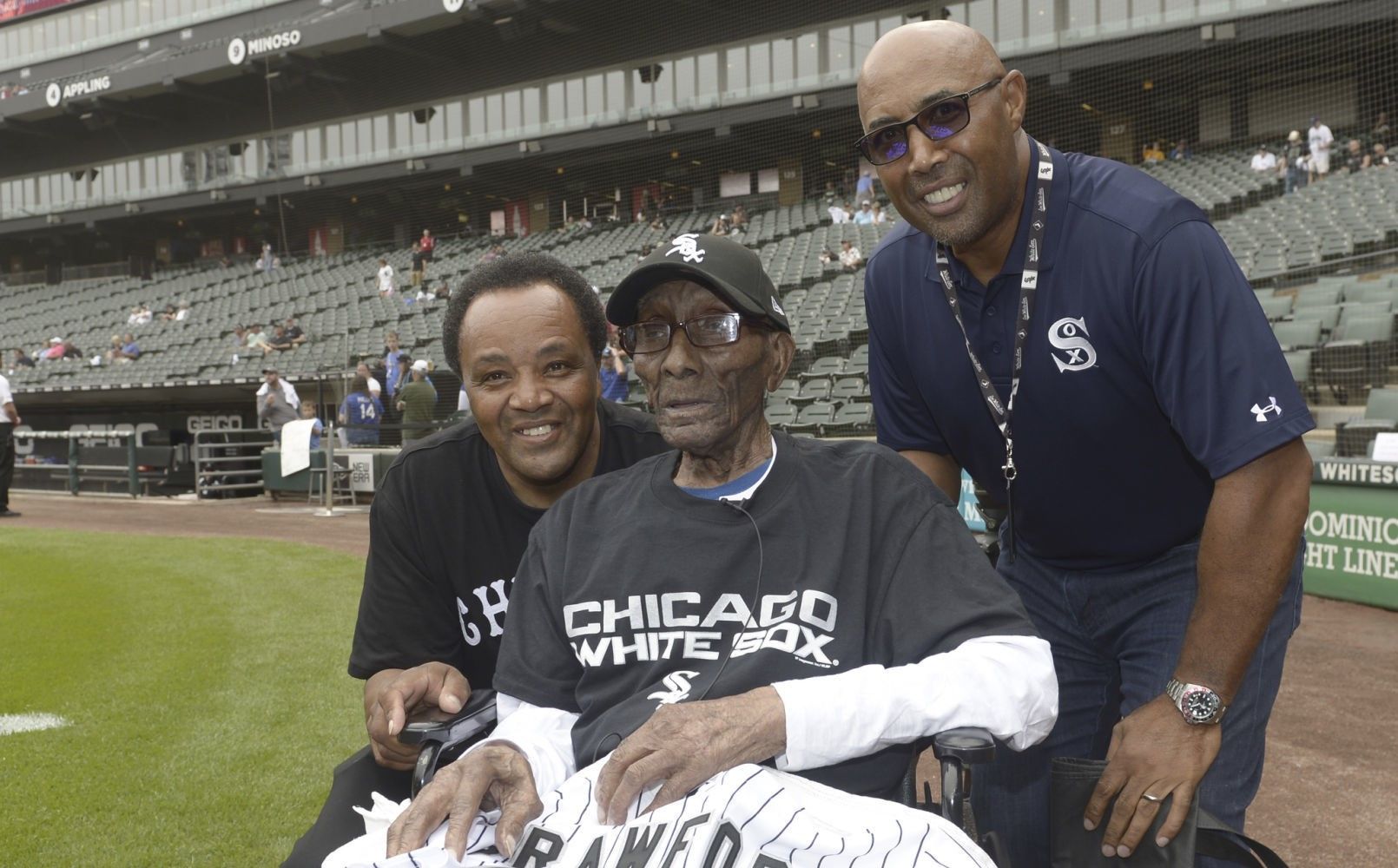 CP Crawford
Lifelong White Sox fan
Oldest person in America
First White Sox game: 2019
Died: Nov. 23, 2019
Age: 112
CP Crawford was a lifelong White Sox fan who had never managed to make it to a game. At age 112, White Sox Charities hosted him for a game, where he met Hall-of-Famer Harold Baines, who gave him a Crawford No. 112 jersey.
"How you doing, sir?" Baines said.
"I feel pretty good," Crawford replied.
Crawford was 112, and was believed to be the oldest person in the United States.
---
Ted Lepcio
Infielder
White Sox career: 1961
5.4 bWAR
512 hits ⚾️ 69 HR ⚾️ 251 RBI ⚾️ .245/.318/.398 ⚾️ 88 OPS+
Died: Dec. 11, 2019
Age: 90
Like several in this piece, Ted Lepcio saw little time with the White Sox; like Keough, Lepcio saw scant time on the South Side and the end of an otherwise-productive career. After eight years in Boston and short stints in Detroit and Philadelphia, the infielder had his contract purchased from the Phillies by the White Sox at the end of spring training. He saw action in only five games in Chicago, with three at-bats and no hits.
"The only thing I prayed for was to be a major league player and it came true," Lepcio told his hometown Utica Observer-Dispatch in 2016. "I didn't crash any records, but I played 10 years in the major leagues, and that's something to be proud of."